Shell pile @ the North Jetty in Nokomis, Florida
Has anyone been following
i Love Shelling blog?
Pam has been giving us the blow-by-blow of all the shells rolling in on Turner Beach a.k.a. Blind Pass. For dedicated shell lovers the sight of that big
honkin
shell pile growing upward on Blind Pass makes you want to call in sick to work, grab your shell shovel, & head south or whatever direction it may be for you to Sanibel.
For those of you that are a plane ride away in the cold & snow; looking at those shells has got to be painful & my heart does go out to you. I live 2 hours north of
Sanibel
via I-75 or about 40 miles as the crow flies. I've sat at my computer for 3 days now looking, drooling, enlarging the pictures, looking again at my work schedule....
ratz
- I'm not off till Monday.
Where I live in the Venice/Englewood area we have some spectacular beaches. Each has their own personality. Englewood's beaches are more rustic & laid-back. Venice beaches are closer to shops and restaurants. They all have their moments when it comes to sharks teeth & gorgeous shells.
North Jetty to the left - Venice Beach to the right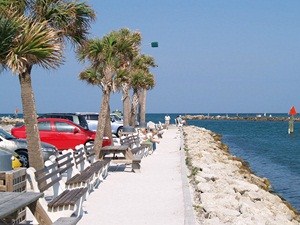 You can park right up to the water
An Intercoastal waterway separates Venice Beach from Nokomis Beach. Those are called the South & North Jetties respectively. Both sides have spectacular views of the water and the boats going in & out of the channel to the gulf. You can park your vehicle right on the water and sit in you car and just enjoy the view. The North Jetty in Nokomis faces NW like the Blind Pass jetty on the Captiva side of Sanibel. I had a little light bulb go off in my head about 3am last night as I laid in bed stewing & plotting my exodus to Sanibel. I got to thinking - "If there are shell piles on Blind Pass there is a good chance the North Jetty has one too". But I had to be at work at 1pm. Could I squeeze it in before work? Maybe.
None of the fisherman paid any attention to the lady
shelling in her work clothes
The tide was coming in pretty quick
Even the birds appreciate a good shell pile
A few goodies. I love to find fishing lures.
I'm sorry to disappoint those of you who thought there would be pictures of the big blonde lady with a garden hand rake excavating through the big shell pile in a dress shirt & khakis. Nobody at work even noticed when I came in that my shoes were squeaking from being slightly wet. The tide was coming in and whacked me a good one. Trust me, I knew that if I saw a Junonia in the water - work clothes or not I was jumping in.
Well, no Junonia today (yet :D ). It took me 20 minutes to drive there and it was 15 minutes back to work so I had 30 minutes to plough through the shell pile and I enjoyed every second of it.