My junonia collection (none of which I have found) They are either gifts or purchased.
No one shell symbolizes Sanibel like the junonia. You'll see images of the junonia plastered on signs, stores, t-shirts, & restaurant menus all over Sanibel Island. The junonia is the official shell of the Sanibel-Captiva Shell Club. The Island Sun on Sanibel-Captiva will put your picture in the newspaper for finding one. If you are on the outside-looking-in to shell collecting or beach combing, all the fuss surrounding the junonia might be somewhat baffling to you. In the SWFL shelling world finding a junonia is considered the pinnacle of your shelling quest. With so many amazing & dazzling shells to find on the beaches of SWFL why the junonia?
Loved by the locals because of it's rarity & beauty this valuable & highly-prized "
Family Volutidae
" is not really native to the island for it is actually a mollusk that lives in depths of 200 ft. out in the Gulf of Mexico. In their natural habitat the junonia are not that rare. Shrimpers whose nets skim the bottom bring them up quite regularly. They find their way in to the shell shops where they are sold to weary shellers such as myself who are tired of looking & waiting to find one year after year after year. Since these deep-water shells live about a mile offshore it takes a good storm to blow them to the beach where some fortunate person can find it. But good things come to those who wait.
Pam got up before sunrise to do some post-storm shelling on Friday morning. It pays to be first on the beach. After many years of finding only junonia fragments & watching her hubby find one junonia after the other she has finally snagged one of her own. And it is perfect. No chips or breaks. Yay Team iLove Shelling!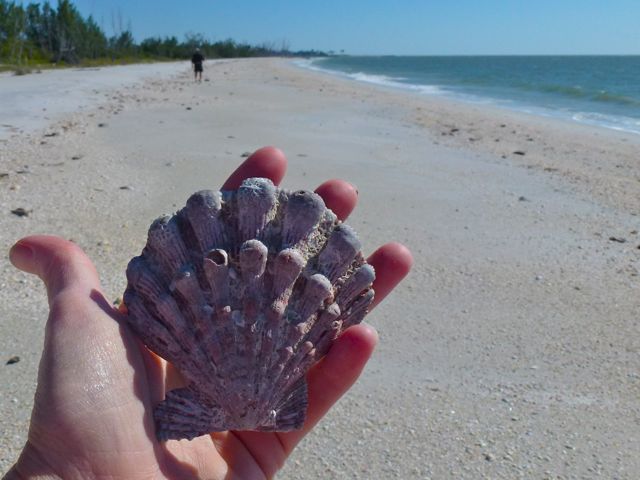 (credit: www.iLoveShelling.com)
Pam is on a roll. She went to the north end of Captiva on Saturday and found her first complete, intact, huge lion's paw. Pam found her junonia on Friday, a lion's paw on Saturday, & the iLove Shelling facebook page just reached 2,000 followers.